Rally around the world #11
Your latest news on regional rally championships.
FIA ASIA PACIFIC RALLY CHAMPIONSHIP / ASIA CUP – RALLY MONTRE, JAPAN (ROUND 1/4)
Kawana claims Asia Cup's Montre Rally
Central Japan's alpine roads proved less of a challenge for the Citroën DS3 of local Suguru Kawana and co-driver Taku Iseya during last weekend's Montre Rally 2019.
First home after a time-tabled 18 special stages, they were followed by Atsushi Masumura and Shizuka Takehara in a Mitsubishi Lancer. Third was a charging Mike Young and Malcolm Read in the Toyota Yaris.
Having won the majority of the stages, it was a Saturday afternoon suspension failure that cost the New Zealand pairing a serious chance of a better placing.
The third round of the FIA Asia Pacific Rally Championship and first for the Asia Cup threw multiple challenges at the six-car field. Weather variations from muddy wet to pleasant sunshine, gravel and tarmac kept the teams guessing at what was coming next. That included Kawana who punctured on the Saturday on his way to inheriting the lead.
The series now returns to the Pacific for the fourth round and third for the Pacific Cup – being contested at the Subaru Rally Tasmania 22 – 23 June.
The FIA APRC standings call be consulted here.
Check out the FIA APRC website for more info.
FIA EUROPEAN RALLY TROPHY CENTRAL – INA DELTA RALLY, CROATIA (ROUND 3/7)
Rok Turk wins Ina Delta Rally with his Hyundai i20 R5
Last weekend, it was round 3 of the European Rally Trophy Central with the 45th INA Delta Rally in Zagreb, Croatia.
Rok Turk and his female co-driver Blanka Kacin drove their Hyundai i20 R5 to the top of the leaderboard. The Slovenian pair managed to build an impressive 32 second gap over their Hungarian rivals Hideg Krisztian and Kerek Istvan, driving a Škoda Fabia R5. Another Hungarian crew, Kovacs Antal and Istovics Gergo, completed the podium with a Ford Fiesta R5. Czech Republic's Ondrej Bisaha and Petr TEŠINSKY showed impressive pace aboard their Ford Fiesta R5 and dominated most of the event before they crashed out on day 2.
Out of sixteen crews from Slovenia, Hungary, Czech Republic, Croatia and Italy that competed in the FIA ERT category, eleven managed to get through the demanding stages and cross the finish line, which remains one of the oldest and most prestigious motor sport events in Croatia.
In the ERT3 category, out of 6 crews, it's Marko Grossi and his co-driver Kavčič David who finished first, crossing the finish line in 7th overall.
Find the FIA ERT overall standings here and more info on the INA Delta Rally's website.
FIA AFRICA RALLY CHAMPIONSHIP – zambia international rally, zambia (ROUND 3/7)
Manvir wins in Zambia for the third time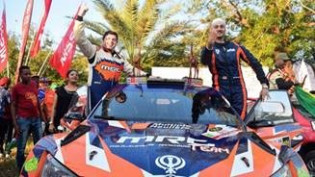 Kenya's Manvir Baryan and his British co-driver Drew Sturrock took an impressive victory in the third round of the FIA African Rally Championship in Zambia last weekend.
The Škoda Fabia R5 driver dominated the event, winning six of the eleven stages in leg one to lead the rally by 29 seconds into the final day. The crew then further widened the gap and took four more stage wins to claim their third consecutive victory in Zambia.
Zambia's Leroy Gomes and his co-driver, who happens to be his wife, Urshlla Gomes, finished second with their Ford Fiesta R5. Onkar Rai and Gareth Dawe, from Kenya, drove another Škoda Fabia R5 to third place.
Baryan and Sturrock scored maximum points and now have a 70 point advantage ahead of the FIA ARC's fourth round, the Safari Rally in Kenya at the beginning of July.
Find the full FIA African Rally Championship standings here
UPCOMING
FIA EUROPEAN RALLY TROPHY balkan – RALLY ESOK, turkey (ROUND 3/5)
Round three of the FIA European Rally Trophy Balkan, Rally Esok, has just started in Eskişehir, Turkey with two days of competition for a total of eight stages and 432.94 competitive kilometers on tarmac.
Murat Bostancı and Onur Vatansever lead Day One with their Ford Fiesta R5 after two stages run twice.
Burak Çukurova and Vedat Bostancı are in second place, ahead of Deniz Fahri and Bahadır Gücenmez.
Yordon Atasanov and Yanaki Yanakiev, at the wheel of a Mitsubishi Lce EVO IX, are running in first place in the ERT 2 class while Ümit Can Özdemir and Batuhan Memişyazıcı are the leaders in the ERT 3 category with Ford Fiesta RT2.
On Saturday 15 June, the crews will tackle another loop of two stages run twice.
More information on the Rally Esok website.